Music…
---
I'm available for house concerts
Either solo or, duo with fretless bass, or 3-piece band with percussionist on cajon.

ORGANISE SHOWS IN HOMES, COMMUNITY HALLS AND LISTENING VENUES
---
Discover new music
Here's a site you might like. Heaps of new, interesting music. Check it out!
---
Bohemian Beat interview
Here is a radio interview with Riddhi from The Bohemian Beat on Bay FM 99.9 about the influence of poetry on me as a songwriter. Since my lyrics utilise metaphor quite often, she was interested to know what part poetry has played in my life to make me become known as 'The Poets' Songwriter'.
To download an mp3 of the interview click here.
Or you can hear the interview on YouTube accompanied by a slideshow of my artwork, here.
---
Here's a recent interview I did with Echonet Daily Entertainment.
---
I feel joy when I'm singing I love the way that music can unite a whole lot of people for a few special shared moments. The skill of a good songwriter unites the audience & the performer, by giving expression to that which, for many of us is too deep to express. In writing my own songs I get to indulge in two of my pleasures…writing lyrics and singing the melodies.
My music is difficult to categorise. I don't like my songs to sound  'same-ish', so I really try to get a variety. I'm told my strength as a songwriter is that I can build evocative word pictures and combine them with interesting melodies. People often approach me after a performance and say they had goosebumps, or that they cried (in a good way!)
The quintessential Sydney love song from my debut album, 'State Of Bliss'. A catchy song that gets in your head! Great views of the sandstone buildings and terrace houses of Sydney, Australia.
State of Bliss - Debut Album
You can now purchase the CD from this site. Click here.
Or purchase individual songs or the whole album online from my shop here.
---
My album features Thierry Fossemalle on bass (The Whitlams, Grace Knight), Dave Sanders on drums & percussion (Grace Knight), Paul Appelkamp (aka Lionheir) on electric guitar, and the legendary Steve Russell on keyboards.  Together with my visionary, ARIA-nominated, producer/engineer Anthony Lycenko, they have wonderfully interpreted my songs. The cover features my original artwork (copies of this are available for sale here).  
It's titled 'State Of Bliss', songs that are thoughtful, some upbeat, some playful, some on piano, most on guitar, with varying time signatures, about various aspects of life. It's reminiscent of 60s/70s singer songwriters, but at times waxes poppy with a more modern twist.
What the musicians have said about my songs:
"State Of Bliss is a very sophisticated song. It echos Joni Mitchells use of unconventional harmony somewhat, virtually merging folk towards jazz sensibilities". Thierry Fossemalle
"Jacaranda Time' reminds me of a Burt Bacharach song!"
"Something Has To Give' and the way you sing it sounds like Karen Carpenter."
"Couldn't We' is a wonderful musical journey".
"True Love' is a real feel-good song".
"I can hear 'Better Than That' on Joni Mitchell's next album." Paul Appelkamp
And a final word from Michael Worthington, who did the mastering of the album:
"This album (State Of Bliss) was a delight to work on! These are songs with melody and substance.  It's so refreshing! I really like 'Patch of Blue'. It keeps coming back to me, as does 'Better Than That'''.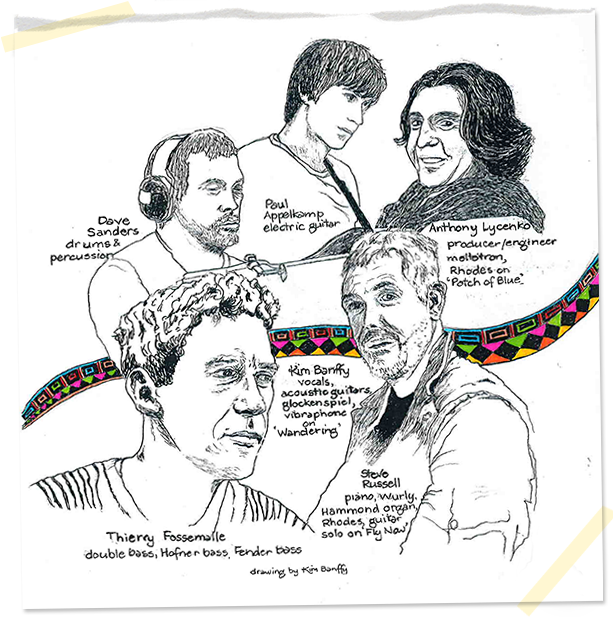 You can now purchase the CD from this site. Click here.
---
Download the lyrics for each song here.
Wandering | Fly Now | Better Than That | Home Alone | Jacaranda Time | Patch of Blue | Something has to Give | True Love | Couldn't We? | Free | State of Bliss
"We rarely hear the inward music, but we're all dancing to it none the less."
Rumi
---
For enquiries for licensing agreements for songs send me an email. Click here.